Their relationship was over. But their love was not. Both of them did not move on from it.
After being diagnosed with a deteriorating health condition, Ik-sun went back to Korea for a check-up. She visited Yulje for in-depth checking with her best effort to cover up, with Ik-jun confirmed Jun-wan should not be there on that day to ensure the two would not meet. But fate was that she saw Jun-wan, whom rushed back to Yulje for an emergency case, in Ik-jun's car when she was about to leave.
The moment she saw Jun-wan at the parking and burst into tears. She could hardly control her sob when she saw he is walking towards her. She must be clouded by guilt and regrets. She stared in the direction Jun-wan left and let tears fell all over her face.
The couple ring was still on Jun-wan's ring finger. Ik-sun cut her hair short, attempting to cut their memories. With all the effort they made, they failed. The silence filled the room whenever the other name appeared. They thought they could act calm but people could see it through. They were NEVER okay with the breakup. The name, the voice and everything could trigger the flashbacks and emotion overthrown.
The saddest wailing is the one with dry-eyed silence, that one has cried out all his tears and left with an empty body.
– Online Quote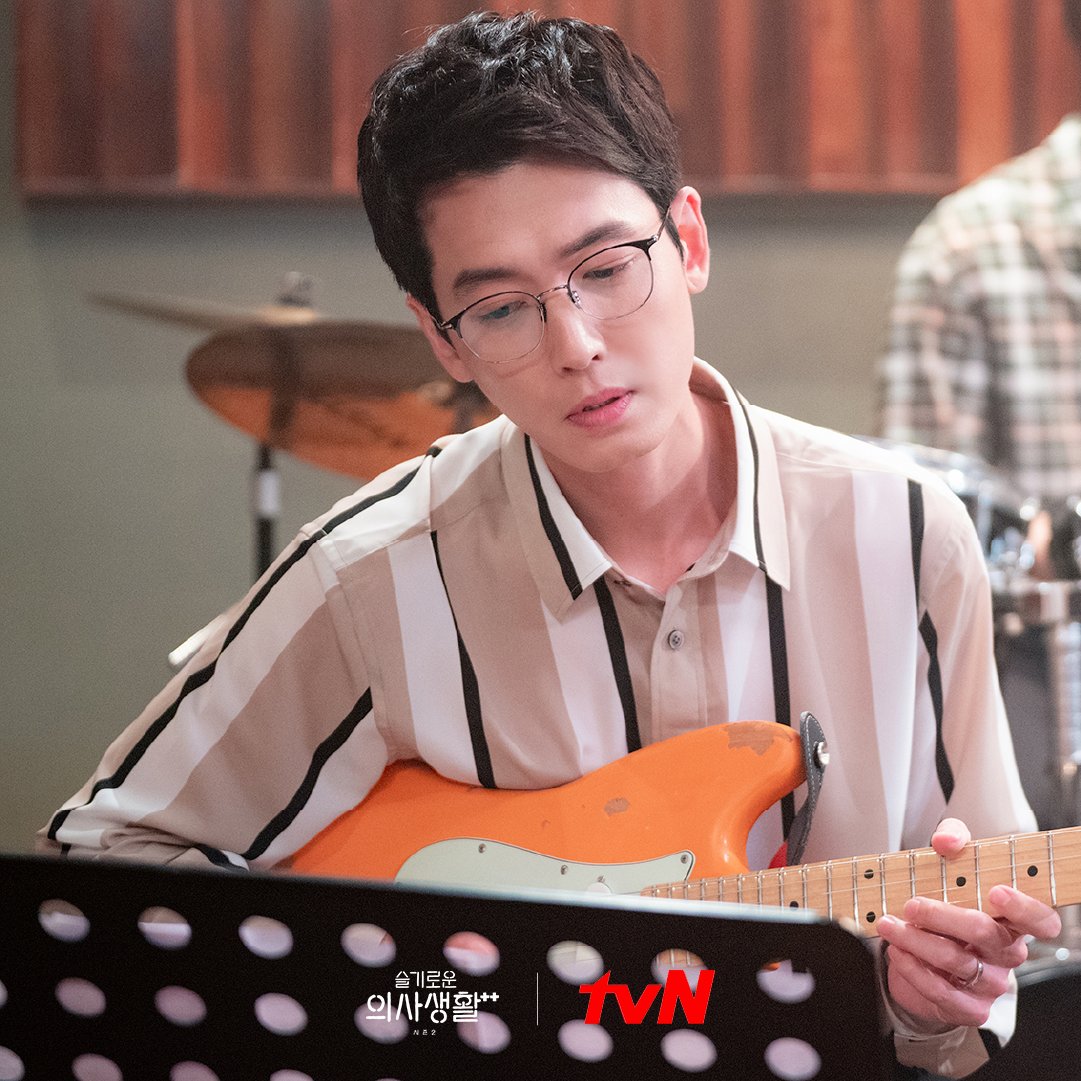 In EP6, Jun-wan asked if he could move in with Jeong-won and Gyeo-ul after they got married. It is hilarious on the scene but also sad seeing how lonely was Jun-wan. He no longer hiding his loneliness now. He refused to go home even in nights not being on duty because he did not want to be in an empty house.
"I'm not seeing anyone. I'm still not over my ex. I still think about her every day. I think about her before I fall asleep, when I'm walking and when I'm having something good like now." Jun-wan responded to Song-hwa's advice of dating new people.
It was upsetting to see how vulnerable and heartbroken Jun-wan was from his relationship with Ik-sun. But I am still happy to see how the drama portrays how a mature person handles his love and heartbreak. He did not rush himself into another relationship just to cover the bad memories from the previous one. He waited until he might one day clear his feeling towards his past and be ready for the next one. It is an extraordinary level of respect one should have towards all kinds of love. The time Jun-wan took in moving on also demonstrated how deeply he loved, or probably still love Ik-sun.
"You have broken my heart into pieces but I still love you from each and every broken part of my heart."
– Online quote
In EP7, a food fighter like Jun-wan forgot to do groceries shopping and ended up at home with an empty fridge. He was choked by a piece of bread and soft drinks and ends up having everything on the floor. He cleaned the floor in such a weak and fragile state. He was not only suffocated by the food but the loneliness.
Due to occupational limitations and drama context, the drama did not describe much about Ik-sun's life, for example, how she coped with her illness and break up with Jun-wan. All we know is that she still appeared to be cool and strong in front of her family. Only from her reaction when anything related to Jun-wan showed up, we could tell she was not much better than Jun-wan in moving on. When she saw Jun-wan's name appeared on Ik-jun's phone, she tried to stay calm but her trembling hands overthrew water bottles.
When Ik-jun found out the two still have feelings towards each other, how will our beloved cupid shoot his arrow of love to bring the two back together?